I wanted to introduce my youngest daughter to Malcolm X since it's Black History Month.
The first place I went to look for information was our local library where I found three book selections on the shelves.
I brought them home so that we could read them together to learn about Malcolm Little, who would change the world as Malcolm X.
After we had gone through them, the experience reminded me of one of my father's favorite Western movies, The Good, The Bad and The Ugly. This 1966 spaghetti western was about 3 gunslingers, however the film's title has entered the English language as an idiomatic expression. It is typically used when describing something thoroughly, the respective phrases refer to upsides, downsides and the parts that could, or should have been done better, but were not.
The Bad
Let's start with the bad, or what should have been done better, but was not. Malcolm X by Michael Benson.

We didn't get very far in this book because I made my daughter stop reading it. There were a few lines that made warning bells go off in my head, the first was one of the first lines into the book: "African Americans, who were politely called Negroes in those days"…How odd, I thought, as my daughter read the word "politely," that the author would choose to label the white people as polite in a book about civil unrest due to bullying, scare tactics and lynchings.
But I didn't say anything and my daughter kept reading. Two pages later, she read this line "Many black families had first come to America as slaves or as servants to white families."
STOP
I actually startled my daughter when I yelled out loud for her to stop reading. "Come to America?!?" I explained to my daughter that black families did not come to America. They were brought here, brutally, on slave ships. Many families were ripped apart by white men who kidnapped children, women and men from their homes in Africa, to bring them to America to work for free as slaves. I let the "servants" comment go…but not for long it seems.
She continued to read a few more pages, then stopped herself. She had gotten to the part about Malcolm's mother having to work after her husband was killed. "At first, Louise was able to land jobs sewing or keeping house for white people. Many white people didn't want African American in their homes."
My daughter was confused because, remember, she had just read "black families had first come…as servants to white families." Why did they leave their homes in Africa, to come to American to work, when the white families didn't want them in their homes?
That was enough of that. We stopped reading and moved on to the next book.
The Worse
The second book we picked up was Meet Malcolm X by Melody S. Mis.

The first paragraph on page one was "In 1965, Malcolm X gave a speech that shocked America. He said that African American should use "any means necessary" to get freedom. This suggested that blacks should use violent actions to gain equality."
STOP
My daughter again looked at me startled. I took the book away from her to explain about Malcolm's childhood. I told her about him looking on as his house burned while the white fire department also watched, I told her about his father being beaten, then killed and driven over by a streetcar, and I also told her about his mother not being able to collect his insurance because they said he had committed suicide. Lastly, I told her about his teacher telling him he could not be a lawyer because of the color of his skin.
I made sure she understood that it was quite odd for a book about the civil rights movement to start with the violence from the black community. I turned the page to discover that the KKK was pictured there, with the title The Early Years next to it. I could not understand, nor could I explain to my daughter, why the author choose not to start with the violent actions of the whites. But this was something that did not sat well with me, so we put that book aside also.
The Best
The book Malcolm Little was written by his daughter, Ilyasah Shabazz. We are in love with this book.

The very first line had us hooked "Malcolm X was one of the most influential men in American history." Why he was influential was then explain to us in beautiful script that took us to where Malcolm's mother was born, Grenada, West Indies "where the sweet smell of nutmeg and cocoa swirled together in the tropical air."
We understood his passion for public speaking because his father Earl used to preach and Malcolm loved to tag along to watch him mesmerize audiences. His "uplifting messages proclaimed freedom, justice and equality for all" was something that Malcolm would listen to with rapt attention.
We learned about his hardships of losing his father and how a butterfly outside his window reminded him that his home was a safe "haven where lessons and values came like nourishment each day."
After we finished it, my daughter wanted to learn more about Malcolm X becoming a Muslim and I filled in the details. I told her he was a bad young men who got sent to prison and there he learned about Islam. That was where he first changed his name from Malcolm Little to Malcolm X, honoring his slave heritage with a new last name that the slaves used, since they were mostly illiterate and could only sign an x.
He later performed hajj in Mecca and traveled to different African countries to see people that looked and acted like him. He was impressed with the teachings of Islam and the equality it provides all it's worshipers, regardless of skin color. He came back from the trip a changed man, and changed his name again to Hajj Malik El Shabazz.
I'm sure there will be more to tell her later, but for now, I'm glad she was now knows who Malcolm X is and his importance in her American history. We especially enjoyed learning it from a loving source that explained in detail how he became of of the greatest civil rights leaders of all time.
To read about more remarkable Muslims, check out these 8 Remarkable Muslims.
Or visit A Crafty Arab on Pinterest for other children book reviews.
This post was written as part of the Multicultural Kids Blog Black History Month blog hop series: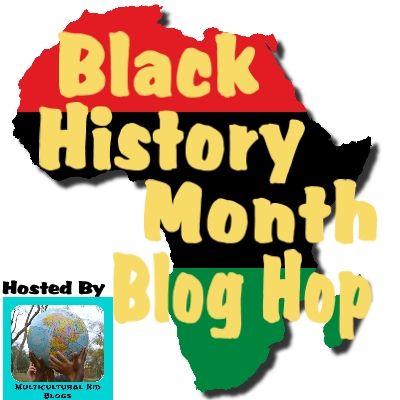 Welcome to our fourth annual Black History Month series and giveaway! Follow along all month long as we explore the rich history and cultures of Africa and African-Americans. Be sure to enter our giveaway below and link up your own posts at the bottom of the page.
You can also follow our Black History board on Pinterest:
February 3
Embracing Diversity on Multicultural Kid Blogs: Afro-Latino Arturo Schomburg – The African Diaspora's History Keeper
February 6
Embracing Diversity: Afro-Latinos and Baseball's Color Line – 5 Pioneers in the Post-Segregation Era
February 7
Hispanic Mama: 5 Latino Dishes that Feature Our African Heritage
February 8
Mama Smiles: How to Use Stories to Teach Children Black History
February 10
Colours of Us: 21 Award-Winning Children's Books for Black History Month
February 13
Crafty Moms Share: The Real Women Mathematicians of Hidden Figures
February 15
All Done Monkey: History of STEM – Black Medical Pioneer Vivien Thomas
February 17
A Crafty Arab
February 22
Kitchen Counter Chronicles
February 24
GUBlife
Black History Month Giveaway
Coming soon! Our annual Black History Month giveaway runs from February 3 through February 28, 2017. Winners will be drawn and notified within 48 hours. Note that some prizes have shipping restrictions. If the winner lives outside of that shipping area, that part of the prize package will go to the next prize winner. Read our full giveaway rules.
Grand Prize
From World of EPI: Winner's choice of 18″ doll US Shipping Only
From Penguin Kids: I Am Martin Luther King, Jr.; I Am Rosa Parks; and I Am Jackie Robinson by Brad Meltzer
From Quarto Knows: A Stork in a Baobab Tree by Catherine House: Who is King? by Beverley Naidoo; The Fire Children retold by Eric Maddern; Thank you, Jackson by Niki Daly US Shipping Only
From Bino & Fino: DVD set US Shipping Only
From RiverFrog Publishing: Bella's Adventures in Africa by Rebecca Darko and Rutendo Muzambi
1st Prize
From Queens of Africa: Azeezah doll with natural hair, and clothing from SLICEbyCAKE US Shipping Only
From Penguin Kids: I Am Martin Luther King, Jr.; I Am Rosa Parks; and I Am Jackie Robinson by Brad Meltzer
From Abrams: The Steep and Thorny Way by Cat Winters; Pathfinders: The Journeys of 16 Extraordinary Black Souls by Tonya Bolden; George Washington Carver by Tonya Bolden; My Uncle Martin's Words for America by Angela Farris Watkins US Shipping Only
2nd Prize
From Penguin Kids: I Am Martin Luther King, Jr.; I Am Rosa Parks; and I Am Jackie Robinson by Brad Meltzer
From Candlewick Press: Jazz Day by Roxane Orgill; X: A Novel by Kekla Magoon and Ilyasah Shabazz; Voice of Freedom by Carole Boston Weatherford US Shipping Only
Share Your Posts!
Save
Save
Save